Posted: Saturday, August 11, 2007 by
Travis Cody
in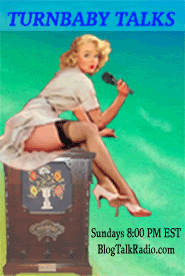 I'm told you can click on the picture above and it should take you on a journey through the bloggosphere, where you will land instantly at Turnbaby's Blog Talk Radio page.
Just in case the magic doesn't work - hey, even Harry Potter's spells sometimes go awry - you can click
here
and find the place the old fashioned Muggle way.
My lady and I are off to a car show today. YAY for classic cars!! I'm late with rounds, and I've got no ideas for posts over the weekend. The sun is shining, the sky is blue, the weather is fine, and WE GOTTA GET THE HELL OUTTA TOWN!!!!
So do forgive me please. I'll catch up with y'all soon. Or hop in and let's hit the road!
Turn up the radio babies!
Happy Weekend y'all!! Later!